Standard 8,10 Pennant - Spring Eye Bushes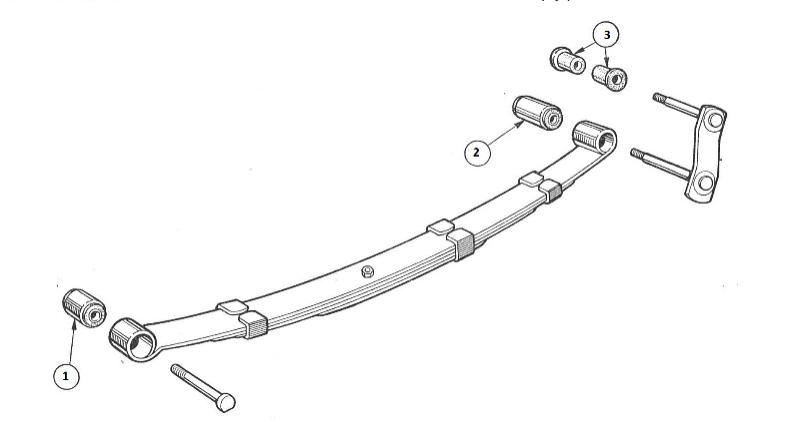 Description
Spring Eye bushes.for front and rear of rear springs
These are metal/rubber bushes, all exact equivalents to OEM
Sold in Car Sets only
Price will update when you make a choice
In the drawing Item 1 is Front eye, Item 2 is Rear eye, Item 3 is Shackle bush. Click on the drawing for an enlargement. Click on the smaller drawings for illustrations and dimensions of the individual bushes
Car Sets 2 and 3 now back in stock with new aluminium sleeving for rear bushes 109068.
There is a choice of 3 Car Sets, depending on your commission number.
ERRATA - Please note there is an error on all the diagrams of the Front Silent Blocks. The correct internal bore diameter is 7/16" not 1/2" as stated. ALL Club supplied Front Shackle Bushes have the correct bore of 7/16".
Car Set 1 £43.80
Suits Standard 8 from CS01 to CSxxxx and Standard 10 up to BE34442
Item 1: 2 x Bush 104955
Item 2: 4 x Top Hat 104953
Item 3:  4 x Top hat 104953  
Car Set 2   £60.00
Suits Standard 8 from CSXXXX to CS17431 and Standard 10 from BE34443 to BE94130
Item 1 2 x Bush 109067
Item 2: 2 x Bush 109068  
Item 3: 4 x Top Hat 104953              
Car Set 3 £66.00   
Suits Standard 8 from CS17432 on and Standard 10 from BE94131on and all Standard Pennant
Item 1: 2 x Bush 117369 (We now supply the bushes with the correct offset hole! see illustration )
Item 2: 2 x Bush 109068
Item 3: 4 x Top Hat 104953
Now select the car set that you require
Prices include VAT  
Postage dependent on total order value will be added at the Checkout
Earn
0
reward points with this purchase
Add This Product To Your Wishlist
The item has been added to your basket